Early Education Professionals are heroes. We are proud to spotlight The Sunshine House, Inc. #144.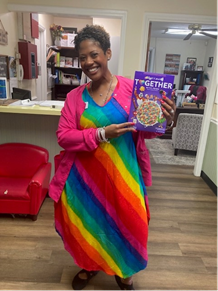 Martinique McLaughlin, is the Director of The Sunshine House, Inc. #144, a Four-Star facility in Fayetteville.
Martinique began her child care career in 2009 on Fort Bragg as an Administrative Assistant. She became
fascinated by the impact teachers have on children, so she went to school to get her child care credentials.
She continued to take classes and ultimately worked toward her Bachelor's Degree. Martinique also
worked part-time at the Partnership for Children of Cumberland County.
McLaughlin began her work at The Sunshine House in May 2018 and has been instrumental in growing
three facilities in Fayetteville. The families praise Martinique for her kindness, professionalism, and passion for child care. They credit her and the teachers for providing a safe environment for their children to grow and thrive. Martinique leads according to her core values of respect, compassion, empathy, and understanding. She strives to be the director she never had and to grow her staff.
Words of encouragement from Martinique include:
Stay the course, this career is not for the weak
Stay encouraged and focused
Always remember to reach your hand back down and grow your team
A true leader turns around and has people following
Her mission is to "touch the lives of children and families one day at a time,
one family at a time, and one child at a time" Martinique McLaughlin
Learn more about the Early Care and Educational Professionals and Program at The Sunshine House, Inc. #144