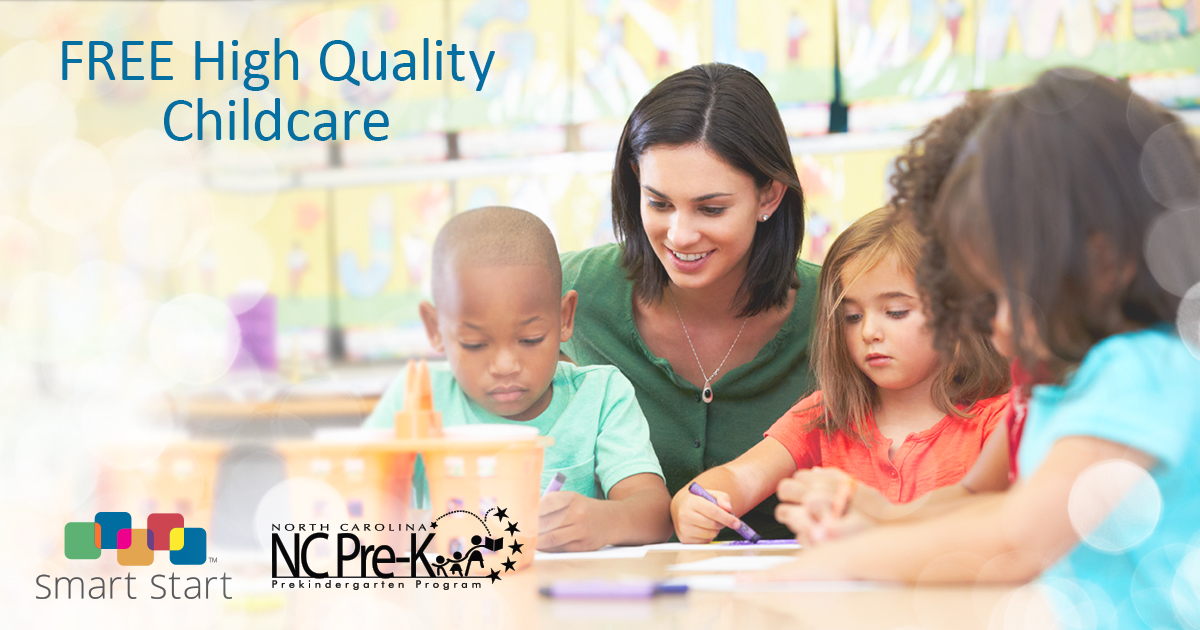 ---
Saturday, February 29, 2020
Cumberland County Public Health Department
9:00 am-3:00 pm
---
Apply today for NC Pre-K!
Space is limited. 
The NC Pre-K program offers free preschool for families who qualify. NC Pre-K operates on the public school calendar and classrooms are offered at participating Cumberland County Schools, Head Start programs and licensed four and five-star private centers. There are a limited amount of openings in Cumberland County for the 2019-2020 and the 2020-2021 school year.  NC Pre-K services are offered at no charge to eligible children.
How do I know if my child might be eligible?
2019-2020 School Year:  Eligible children must be 4-years-old by August 31, 2019
2020-2021 School Year:  Eligible children must be 4-years-old by August 31, 2020
One of the following must also be true:
The child's family meet income eligibility OR
 The child has limited English proficiency, an identified disability, a chronic health condition or a developmental or educational need OR
 Is a military dependent of an active duty service member or a military service member who has been seriously injured or killed while on active duty
Steps to apply:
Download the application. 

Complete the application.

You will choose up to eight (8) NC Pre-K sites where you would like your child to attend.  Use the school locator tool to find locations that work best for your family.

Mail the application or bring it to our office. Staff will accept NC Pre-K applications at our office Monday thru Thursday from 8:30 a.m. to 4:30 p.m. and Friday from 8:30 a.m. to 11:30 a.m.  Our office is located at 351 Wagoner Drive, Fayetteville, NC 28303.  Please note that faxed or emailed applications cannot be accepted.


Need assistance? We're here to help!

We offer one-on-one application assistance. Call 910-867-9700 to schedule an appointment. Meeting with staff to look over your application is highly recommended.
What documentation do I need to provide along with my application?
Copy of child's official birth certificate
Proof of income:

Employed individuals

Pay Stubs for a complete month (if paid weekly – bring 4 consecutive pay stubs; if paid twice a month – bring 2 consecutive pay stubs; if paid monthly – submit at least 1 full month's pay stub)
Tax records (W-2; 1040EZ-line 4; 1040-Adjusted Gross line 37; 1040A-Adjusted Gross line 21)
Employer written statements signed by the employer (on letterhead, if available)

Self-Employed individuals

Tax records or 1099
Business bank statements

Unemployed individuals

Award letter from the Employment Security Commission
If you don't have any documentation, you will be asked to sign a statement of $0 income

Disabled individuals

Award letter from the Social Security Administration

Proof of receipt for child support and/or alimony
If applicable:

Court Ordered Custody Papers
Proof of military dependent status (DEERS form or LES)
Military Special Power of Attorney & TDY/Deployment Orders
Individualized Education Program (IEP)
Disability documentation/Chronic Health Condition
Who do I contact for more information?
You can fill out this online form or call and leave a message at 910-826-6444.
*Although a child may meet one or more eligibility factors, placement in an NC Pre-K classroom is not guaranteed. Placement in your preferred location is also not guaranteed.
For more detailed information, including income guidelines, please visit the Department of Health and Human Services guide to NC Pre-K Program Requirements. 
For more information, call:
(910) 826-6444