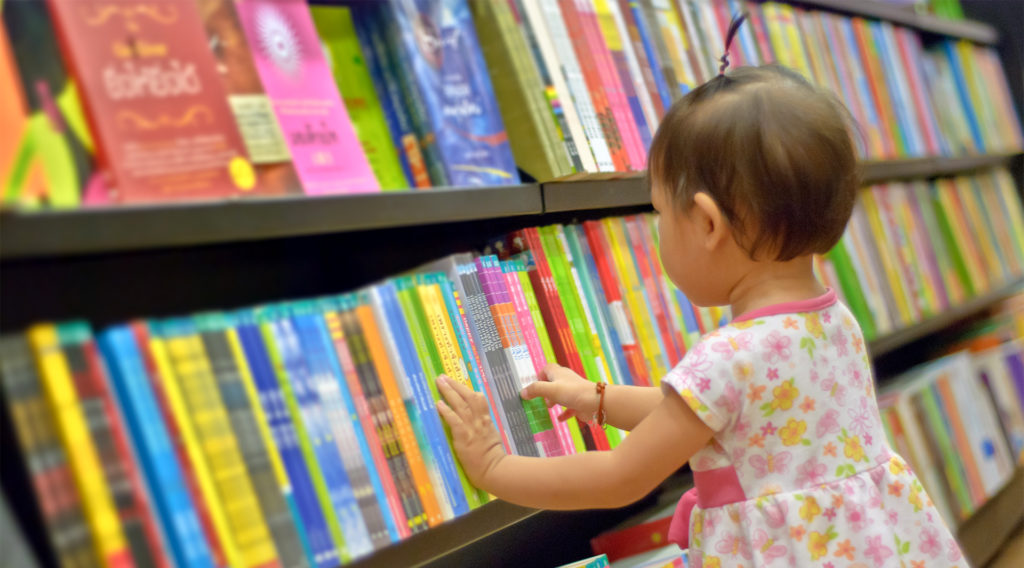 There is a great joy in walking out of the public library with a tall stack of books, full of adventures and ideas and recipes to be discovered. My two-year-old, Orion, especially like books that involve trains, ducks, turning the book upside down, and cookies. But there's so much more to discover at your local library. Here are five reasons (of many!) to take your kids to the library BESIDES books.
Attend storytime and other programs. All the libraries offer free storytime and other programming for kids of all ages starting from birth! Storytime not only introduces kids to books, but helps practice sitting and focusing on the librarian, interacting with other kids, and learning familiar songs and games. And don't worry that your kid won't sit still — as long as they're not actively disrupting storytime by throwing puppets around, the librarians expect active kids! Mine went through a phase of trying to escape the storytime room over and over unless the librarian was singing — but now he asks for his favorite librarians! Besides storytimes, the library offers all kinds of programming for all ages, ranging from crafts to concerts to coding.


Play and learn in ELF (Early Literacy & Family) corners. Each library houses a special area stocked with toys, puzzles, books, manipulatives, and iPads for kids to play and learn. Orion's favorites are the magnetic tiles and puppets. It's another great place to get some experience interacting with other kids, too.


Use ABC Mouse and other software. While the library offers lots of software and apps for kids to use, ABC Mouse is one of the most popular (and must be used in the library.) ABC Mouse covers an extensive curriculum of literacy, math, science, social studies, and art.


Access free Wifi and computers. Most people know the library offers free WiFi, but you may not know each library has specialized computers designated in the children's area for their use only. Parents can check out laptops to use as well while in the children's area. If you don't have access to a computer at home, the library is a great place to do the work you need to get done!


Stock up at quarterly book sales. Some families can't afford to buy books new; some hesitate to give a toddler a brand-new book; others can't keep up with their kids' voracious reading appetites! Book sales are a great way to pick up gently used books, audiobooks, music, and movies at low prices. Build your own library at home and support the public library while you're at it! I feel much better about Orion covering his beloved LMNO Peas with blue paint knowing it has already lived a full life and been enjoyed by many toddlers before.
So stop by your local library this weekend and, though I certainly recommend you leave with a stack of books (Orion recommends Honk! Splat! Vroom! by Barry Gott) also take time to see what else the library has to offer. You may find a room full of teenagers learning how to make a budget, preschoolers on a daycare field trip learning about instruments from the North Carolina Symphony, a dad getting some grad school homework done while his toddler plays with blocks, or a two-year-old learning a hard lesson about having to leave the library before he's ready(that would be mine.) Maybe you'll come up with five more reasons to visit!
Bonus Tip: If you have a child under five years old and you live in Cumberland County, you can sign up to receive one free book a month through the Dolly Parton Imagination Library. You don't need to come into the public library to do that (go to, https://ccpfc.org/dolly/) but it's another excellent way to expose your child to reading!