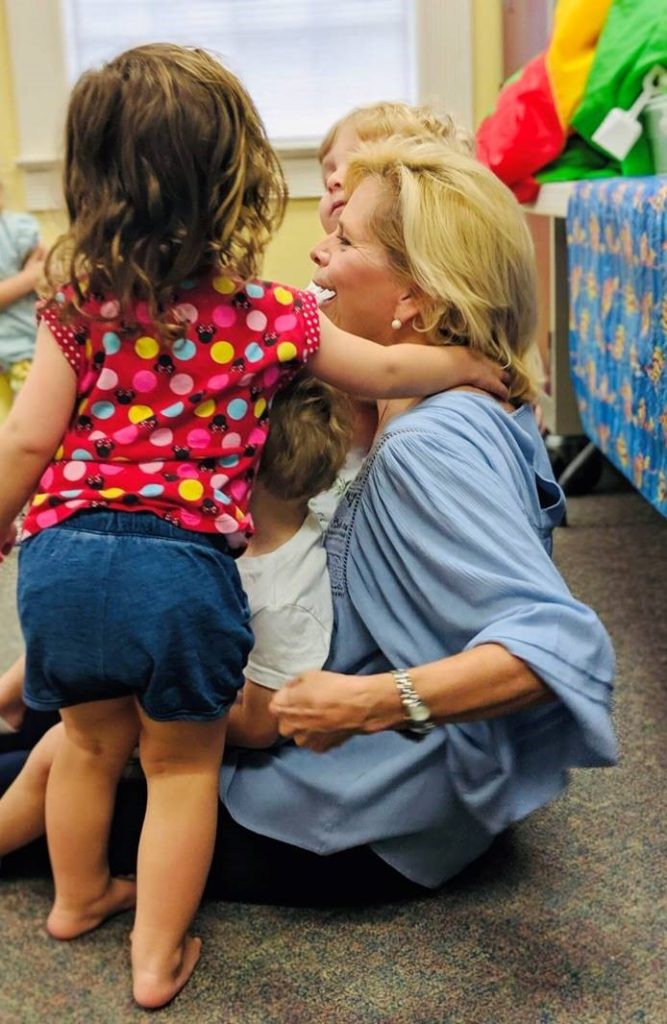 Kindermusik Educator, Kerri Hurley Receives International Award

FAYETTEVILLE, NC – Partnership for Children of Cumberland County, Inc. is proud to announce Mrs. Kerri Hurley has been recognized as an outstanding Kindermusik Educator with the 2019 Kindermusik Outreach Recipient award.
The Kindermusik program, administered by Mrs. Hurley, is partially funded by the Partnership for Children of Cumberland County (PFC) through NC's Smart Start initiative. The grant awarded by PFC provides training and coaching in utilizing music in daily lesson plans for classes of at-risk pre-kindergarten children and their teachers.
Ms. Hurley is a graduate of the University of North Carolina at Chapel Hill and a licensed Kindermusik Educator with 34 years of experience in providing early childhood music, including 22 years as a Kindermusik Educator and Early Childhood Clinician. Her experience includes teaching in the Preparatory Performing Arts Program at Methodist University and currently teaches at The Snyder Music Academy at Snyder Memorial Baptist Church where she also leads Children's Choirs and is involved in every aspect of the music program, including a pianist in the Festival of Keyboards Concert Series.
Kindermusik is the world's leading provider of music-based education for early childhood. "We use the power and joy of music-making to help children learn and grow during the years most critical to brain development," said Hurley. "For 40 years and now in over 60 countries, Kindermusik's evidence based program has helped millions of children around the world build a strong foundation for a lifetime love of learning through curriculum designed to stimulate and strengthen the vital neural wiring taking place in young children. Utilizing the latest research with proven methods, our child-centered curricula is focused on all developmental domains: Social, Cognitive, Emotional, Physical, Musical, and Language."
The Partnership for Children of Cumberland County is a nonprofit organization with a successful record of making a difference for Fayetteville and Cumberland County's children. We are the local administrator for Smart Start, North Carolina's early childhood initiative, and the NC Pre-Kindergarten Program. The central goal of PFC is that all children arrive at kindergarten ready for success in school. #bethedrivingforce
Thursday, July 18, 2019
FOR IMMEDIATE RELEASE
PFC Press Contact:
910-867-9700
Sharon Moyer,

[email protected]