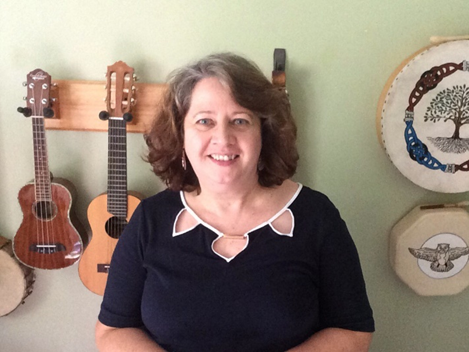 Plato said, "The patterns in music are the keys to learning." No one knows that music therapy is more than just a song more than Georgene Fayssoux, Board-Certified Music Therapist.
Over the past nine years, Georgene has provided a voice for many children in Cumberland County, an outlet for healing, and the ability for educators and parents to connect with their students through music. But, as all great things do, her service in her current capacity has come to an end.
Georgene's Impact: What Others Had To Say…
"Georgene has a special gift for using music to get the most from children who may have a variety of learning needs…from those who may be nonverbal to those with multiple disabilities. Her impact on Cumberland County children will be felt for years to come." Mary Sonnenberg, M.Ed., President of Partnership for Children of Cumberland County
"Georgene has been such a blessing to children, teachers, and families through her Music Therapy expertise and kind, gentle nature. Her gifts and all she shared with children these past six years will impact many children for the rest of their lives. She has always gone above and beyond in all she does and will be greatly missed." Kerri Hurley, Licensed and Accredited Kindermusik Educator, Outreach Educator Award Early Childhood Consultant/Trainer,
Georgene's unwavering commitment and exceptional musical abilities positively impacted nearly 2,000 children, families, and educators in Cumberland County. Her inspiring stories and valuable insights left a lasting impact on many. A testament to her influence can be seen in what the parents of her students have said about her.
"My child thrives with music. We incorporate music to help her recognize daily activities, such as "the clean-up song." Music has been highly instrumental in her development and is very much needed for the future success of activities and the recognition of phonetic sounds."

"Having a child that is autistic, you have to learn the best way to teach them. Our daughter, as well as others who are on the spectrum, gravitate towards learning through music. It gets her attention, and she can retain fundamentals through music and song. She has made significant progress in learning to communicate through Music Therapy."
"Soothing and calming tantrums, making her more interactive with others, and communicating by learning words to songs and meanings."

Music therapy has benefited my child in calming her when her sensory issues are overwhelming.
The teachers in the classrooms have similar sentiments. "Ms. Georgene was experienced and competent at gaining student attention and fostering engagement through musical instruments and songs. Student engagement is a challenge when working with autistic students. The music and instruments greatly assisted in fostering the attention of most students each week."
A Final "Note"…
Although we will miss her dearly, we wish her all the best in her future endeavors as she continues to use her musical talents to help others in Moore County.
Thank you, Georgene, for sharing your musical gifts with all of us and for impacting the lives of Cumberland County children, their families, and teachers.
To Learn More…
For more information about Music Therapy and the benefits of Music Therapy: https://www.musictherapy.org/about/musictherapy/