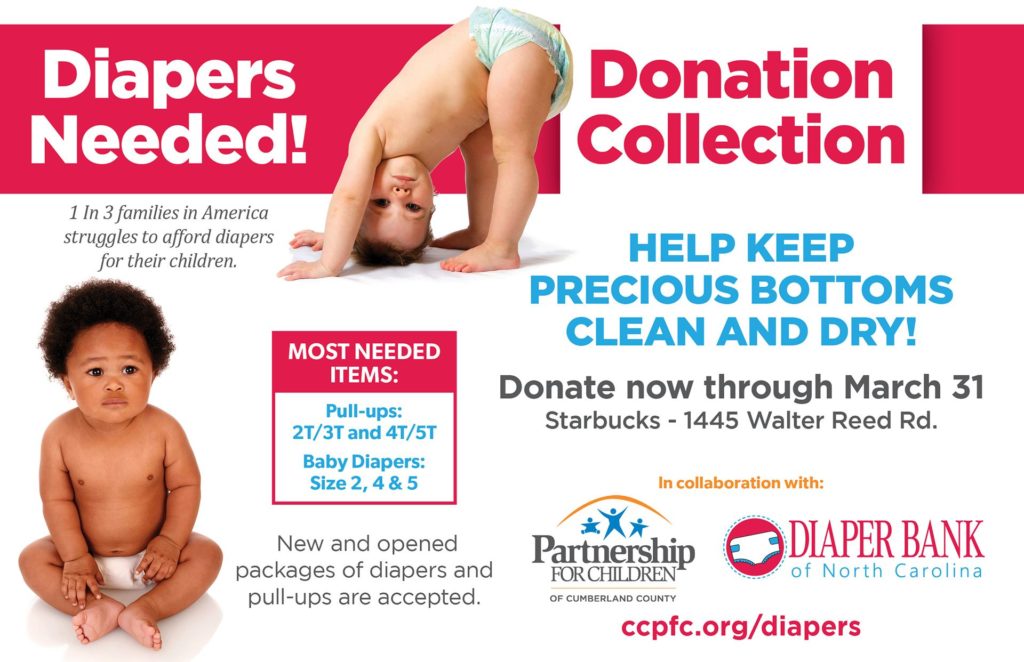 Donate Diapers at Starbucks® Walter Reed Location Today!
1 in 3 families struggles to afford diapers for their children. The same is true in our community. The expense of diapers has forced some parents to choose between clean diapers or food. Some families leave children longer in a soiled diaper (to stretch the supply they may have on hand). They have to make gut-wrenching choices that lead to a host of other problems associated with soiled diapers and a baby's sensitive skin. Recognizing the challenge for families in our community, we looked for a way to address the need and provide relief. Partnership for Children of Cumberland County learned of an amazing program, Diaper Bank of North Carolina, and partnered with them to bring their nonprofit to our community to serve 300-600 families monthly right here in Cumberland County.
The Partnership, in collaboration with Diaper Bank of North Carolina, is on track this year to provide about a half-million diapers to local families facing diaper insecurity. That is a lot of adorable baby bottoms covered in clean, dry diapers. Serving hundreds of families each month requires a generous supply to meet the need. We have proudly partnered with Starbucks® at the Walter Reed location in Fayetteville as they host a diaper drive now through March 31st. The staff at our local Starbucks® cares about strengthening the communities where they do business. They are more than an amazing bean of delight, and we are appreciative of their caring spirit to better the lives of children and families in our community. Drop off diaper donations during their regular operating hours. You can donate opened packs of diapers or pull-ups as well as unopened. Join us today and let the smallest children of Fayetteville know, we've got them covered. Thank you, Starbucks® for your philanthropic spirit. Donate today!
Need diapers?
Interested in hosting a diaper drive? Contact us at [email protected].