The Diaper Bank of North Carolina will be handing out FREE Diapers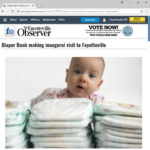 A nonprofit group will be making a special delivery of diapers to Fayetteville this weekend.
The Diaper Bank of North Carolina, a grassroots effort created in Durham four years ago, will be making its inaugural visit to Cumberland County at the Cumberland County Partnership for Children office in its new mobile diaper pantry. There is no eligibility requirement, but registration is required to ensure the correct diaper size is available.
The diaper bank – named Truckload of Hope — can fit supplies for up to 250 families, and all slots had been filled as of Wednesday night.
"We know there is a huge need for diapers in the community," said Michelle Old, founder and executive director of the North Carolina Diaper Bank.
Old created the mobile diaper pantry earlier this year after she secured a national grant worth $10,000. She wants to target military families.
Old partnered with a graduate student at the University of North Carolina to do a small research project into the county's need – and they learned that 63 percent of military families said diapers were a significant expense in their household.
"These are working families," she said. "So we don't have any kind of income requirement other than families struggling to afford diapers."
The mobile diaper pantry will provide diapers, diaper wipes, diaper rash cream and hygiene products for adults.
Although mobile, this is the first diaper bank in Cumberland County.
Last year, the diaper bank distributed more than 2 million diapers across North Carolina.
Mary Sonnenberg, president of the Partnership for Children, said the collaboration with the diaper bank will allow the county to better assist the needs of families with young children.
"Many families struggle with meeting very basic needs of their children, including diapers," she said. "This partnership is one way to bridge the gap in meeting these needs for families."
In addition to needy families, the diaper bank is looking for civic or church organizations to "adopt" the mobile pantry for one month. As part of the adoption, the group would need to provide 25 volunteers to distribute diapers, as well as chip in $400 to pay for gas and insurance for the truck.
To read the Fayetteville Observer article, go to http://www.fayobserver.com/news/20170531/diaper-bank-making-inaugural-visit-to-Fayetteville
For up-to-date information about this program, visit our Diaper Bank page.