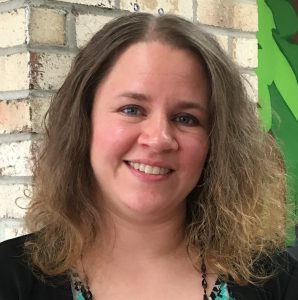 Fayetteville, NC – We are extremely pleased to announce that the Partnership for Children of Cumberland County's (PFC or The Partnership) very own Rebecca Beck, a native of Hope Mills, North Carolina, has been promoted to Vice President of Information Technology.
As a cutting edge technology professional with expertise in social engagement and business leadership, Rebecca is tasked with technology infrastructure planning, organizational leadership and social media strategy development at the Partnership.
Beyond the Partnership, Rebecca is a well versed training facilitator and sought after key note speaker at the National Smart Start Conference and the NC Tech for Good Conference (Sponsored by the NC Center for Non-Profits). To her credit, she also shares advice on a variety of technology topics via Twitter and her blog, @IfItHasButtons .
As the Partnership and our at-large community positions itself to transition into a new era of technology, social engagement and cultural advancement, we are more than pleased to announce Rebecca's promotion, as she will be a critical aspect of our long-term vision for economic prosperity. The Partnership is extremely pleased that Rebecca is deeply committed to her local community and is more than elated that she continually strives to promote the importance of early care and family support needs beyond her professional role.
In her spare time, you will find Rebecca representing the Partnership for Children via the Greater Fayetteville Chamber of Commerce and as a volunteer at a variety of local agencies funded by the United Way of Cumberland County.
Rebecca is the recipient of Citizen's Academy certificates from Cumberland County and the City of Fayetteville as well as a previous Advisory Board member for the Town of Hope Mills Parks & Recreation.
Rebecca is also a proud alumna of Southview High School, Fayetteville Technical Community College and Fayetteville State University.
More importantly, Rebecca's most challenging and rewarding role is as a parent of two young boys who represent the bright future of our great community.
About the Partnership for Children of Cumberland County:
The Partnership for Children (PFC) of Cumberland County is a nonprofit organization with a successful record of improving school readiness and success for young children —through increasing childcare quality, strengthening families, and building strong communities. The Partnership is responsible for implementing the Smart Start initiative and the NC Pre-Kindergarten Program and is supported by public and private funds through Smart Start, NC Pre-K, tax-deductible donations and grants. For more information about the Partnership for Children of Cumberland County call (910) 867-9700, visit us online at ccpfc.org or like the Partnership on Facebook – facebook.com/ccpfc.org