We know this is a scary time for families and children. Our goal is to provide you with updated information, resources, and referrals.
Need to reach us? You are welcome to call us at 910-867-9700 but please know, you may have to leave a message. The voicemail is being monitored but using the form on our Contact Us page is the quickest way to reach us.
Find community resources on our digital Family Focus Guide.
Explore Resources:
Emergency/First Responders and Critical Workers Child Care Referral and Assistance: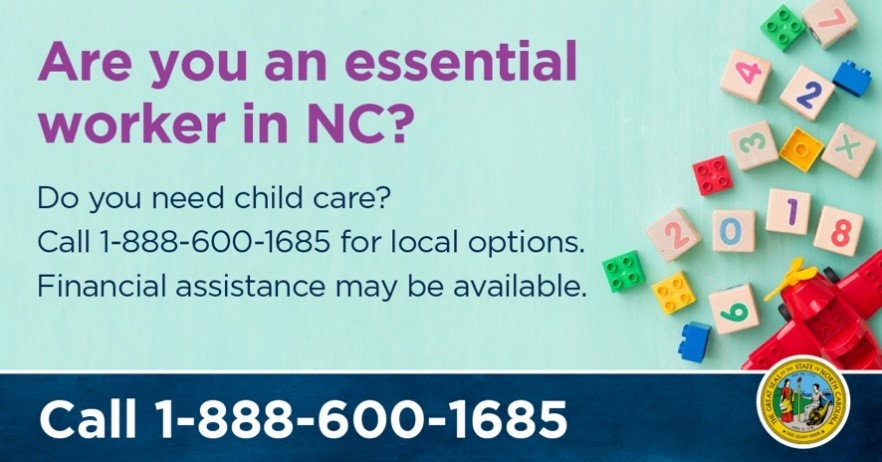 The State of North Carolina is urging all families who can keep their children at home, with a responsible adult, to do so.
Emergency and first responders and critical workers needing referrals to child care programs that are open and operating for children ages birth to twelve should call the statewide toll–free number listed below for assistance:
1-888-600-1685 (Monday through Friday from 8 a.m. to 5 p.m.)
 Callers to be served include:
Emergency and first responders
Hospital staff
Nursing and adult group home staff
Frontline health care providers
Child care program staff
Foodservice staff
Families of children who are homeless, receiving child welfare services, and/or in unstable or unsafe living arrangements
Others who are working to keep North Carolinians safe and healthy
Please note:  Effective April 1st,  the only licensed child care programs that are allowed to operate in North Carolina are those which have agreed to meet additional health, safety, and other requirements specified by the NC Division of Child Development and Early Education (DCDEE) and have been specifically authorized by DCDEE to remain open in April and May 2020.
---
COVID-19 Information and Resources
Be Strong Families – COVID-19 Support: Staying Strong and Positive for Ourselves and Our Children
CDC Home Preparation – Prepare your home for the COVID-19
CDC Updates – CDC updates regarding the Coronavirus
Free Access to Spectrum Internet – Free internet for K-12 students now learning at home
March of Dimes – What you need to know about Coronavirus and its effect on moms and babies
My Coronavirus Story – Storybook to communicate the Coronavirus with children
National Child Traumatic Stress Network – Caregiver Guide to helping families cope
No Kid Hungry North Carolina – Meals for Kids in North Carolina during COVID-19 school closures
North Carolina Coronavirus Hotline – Coronavirus Response in North Carolina – 866-462-3821
Parent and Caregiver Guide – Parent and caregiver guide for coping with COVID-19
Toll-free Hopeline – Free toll-free hotline for distressed adults during COVID-19 – 1-866-578- 4673
Zero to Three – Zero to three aged tips for families
---
Parenting Information and Groups
Bright by Text – Free developmental games and info by text message in English or Spanish
The Working Mama Collective – Free online group for working mothers
Fostering Families – Support groups and resources for foster and adoptive families
New Mom Health – A hub of evidence-based, reality-centered postpartum health information
Postpartum Support International – Phone and text support and online groups are available to pregnant women, new moms, and their partners
Triple P: Positive Parenting Program – Positive discipline info online and free in-home consults
Zero to Three – Parent resources, including a monthly email on development
---
Health, Safety, and Development
Guide To COVID-19 and Early Childhood Development – Harvard University's response and recommendations and resources for families with young children
Healthy Children – Parent resources from the American Academy of Pediatrics
Kids Health – Resource about health, behaviors, and development from before birth to teen years 
Hope4NC Helpline – 24/7 call center for mental health and resilience supports during times of crisis – 1-855-587-3463          
Hope4Healers Helpline – NC medical professionals, or their families, can call 24/7 for mental health and resilience supports – 919-226-2002
Hope4Healers Helpline – Provides mental health and resilience supports for health care professionals, child care professionals and their families. – 919-226-2002
National Child Abuse Hotline – 1-800-4-A-CHILD
National Domestic Violence Hotline – 1-800-799-7233
Safe Kids – Website with lots of safety tips and information for families
---
Relationships and Adjustment
The Gottman Institute – Relationship/marriage experts for daily tips
New Baby Sibling – Tips for helping children adjust to a new sibling
Love is Respect – Support services to engage, educate and empower young people to prevent and end abusive relationships
---
Breastfeeding Support
Black Women Do Breastfeed – Info, support, and encouragement for black families
Global Health Media – Videos on breastfeeding, nutrition, and infant care
Infant Risk Center – Evidence-based info about medications in milk
Kelly Mom – Evidence-based breastfeeding information
La Leche League – Information, support, and encouragement for parents who choose to breastfeed
---
Support For Fathers
Dad University – Offers dad advice and tips that you don't learn in school
Dads Adventure – Trusted Info. Real advice, from real dads
National Center for Fathering – Positive fathering information
National Responsible Fatherhood Clearinghouse – Tips, hints, and programs about fatherhood/
New Dad Manual – The place for new dads to get very cool info about parenting a newborn
---
Local Resources
Cumberland County Dept. of Social Services – Child services, economic services, adult services, and public information
Cumberland County Health Department – Immunizations, environmental health, and health services
Cumberland County Public Library – Digital library cards available to e-books, audiobooks and other resources
Head Start Action Pathways – Provides services to help with hunger, housing, education, and empowerment
NC 211 Help – Information about resources available for our community
Prevent Child Abuse NC – Recognizing & reporting child maltreatment
Second Harvest Food Bank – Distributes food to those in need
US ARMY Fort Bragg – Updates from across Fort Bragg regarding COVID-19