We are committed to providing updated information and resources to licensed Childcare providers in our community.
We know this is a difficult time for all of us, and answers are in short supply. But we want you to know that we are still here, working to ensure you have the support you need.
This page will serve as a platform for the latest news, guidance, and resources.
Classroom/Center Resources:  Our team is working to build a list of resources for items your center might need. If you are looking for a specific service or item, let us know, we will work to help you find what the service or item you need.
Guidance and Support:  Our Technical Assistance team is available to help connect you to resources, provide you with guidance, or classroom support. While we cannot come to your facility, we are available by email, meet virtually, and chat via phone.
How to reach us:  Because our Technical Assistance team is teleworking, email is best. You are welcome to call our regular line, 910-867-9700, but you will have to leave a voice mail. Our team is checking their voicemails several times a day.
Who do I email?
Childcare Centers - Michelle Bailey
Family Childcare Homes – Mary Anders
Resources are updated regularly. Please check back often.
Explore Resources
Informational Sites
A Guide to COVID-19 and Early Child Development –Information from Center on the Developing Child on COVID-19, what it means for child development, and easy-to-share resources that can help parents and caregivers, as well as child care providers, pediatricians, and others who work with families.
NC 2-1-1 – NC specific with a wide variety of resources to include emergency and disaster
COVID-19 Information and Resources
Alliance Behavioral Health – Federal, State, and Local resource links and guidance under Covid-19
Center for Disease Control – Center for disease control information
Child Care Aware NC – Cumberland County information related to COVID-19
Child Care Health and Resources – Health and safety resources NC child care specific
ChildCareStongNC Public Health Toolkit - Interim guidance updated with each phase and new mandates during COVID-19 pandemic to assist childcare providers with minimizing risks. (NCDHHS)
City of Fayetteville – Updates on services and COVID-19
Cumberland County – LEAD agency for Fayetteville's community response amid COVID-19
Cumberland County Emergency Management –Emergency management information on services
Cumberland County Health Department – Updates on services and COVID-19 testing
Cumberland County Schools – K-12 Covid-19 information
Division of Child Development & Early Education (DCDEE) – Licensing consultant contact list
Economic Impact Survey by FCEDC – A local survey measures the economic impact of COVID-19 on Cumberland County's business community. The survey will inform recovery efforts and aid for a variety of business sectors.
Mecklenburg County Smart Start – COVID-19 stop spread of germs flyers
NC Child – COVID-19 resources
NC Department of Health and Human Services (NCDHHS) – Information child care specific COVID-19 and policies and social media assistance for Child Care, updates, mental health amid the crisis and guidelines for requesting PPE
NC Partnership for Children (NCPC) – Resources during COVID-19 on various topics
Parent Map – Educational resource for parents on various topics for providers to share
UNC Health Sciences University Libraries – Library resources for staying up to date on NC
White House Response – Federal response information
Food Services
No Kid Hungry NC – Meals for Kids in North Carolina during COVID-19
Second Harvest Food Bank – Food online and call-in orders only, backpack program still in place as well
US Foods – Food distributor delivery for businesses
Cleaning Supplies
Cintas – Cleaning supplies, tile and carpet cleaning, etc.
Image Supply – Cleaning supplies, cleaning equipment rentals, etc.
Good360 – Cleaning supplies and other goods related to COVID19
Financial Assistance
Division of Child Development & Early Education (DCDEE) – Emergency Child Care application form
Economic Impact Survey COVID-19 – Economic impact survey
Federal Emergency Management (FEMA) – Federal emergency management administration information for small business
NC Department of Health and Human Service – Provider online portal to submit emergency subsidy
NC Rural Center – NC COVID-19 rapid recovery loan for small businesses
Self-Help  – Small business loan information
Small Business Administration – Disaster relief loans for all 100 NC county businesses
Small Business Administration and Treasury Department – Loan forgiveness application for small businesses who used paycheck protection loan
Small Business and Technology Department Center at Fayetteville State University & UNC-Pembroke – Provides counselors free and confidential to clients to assist them with loans and financial applications to navigate the system and to provide ongoing support for small businesses. Assistance is available to any child care provider.
Small Business Center Network – Free webinars - finances, marketing, various business topics amid the crisis
Learning Resources
Audible – Learning online - free during this time
City of Fayetteville – Fayetteville specific educational videos and coloring pages
Cumberland County Libraries – Many resources including educational links, story time links, virtual tours links, COVID-19 links, and E-cards
Kaplan – COVID-19 resources. Free learning resources and videos available. For product support contact Art Guye.
Lakeshore – Free resources and videos available
NC Zoo  – Resources and learning
Scholastic Magazines & Activities for Kids – Resources and learning
School Tools – Learning/teaching supplies
Teachstone – Resources and learning
Mental Health Resources
Hope4Healers Helpline – 919-226-2002 – Provides mental health and resilience supports for health care professionals, child care professionals and their families.  
North Carolina Department of Health and Human Services – COVID-19 Managing your overall health. Resources to assist with isolation, suicide prevention, etc.
NC Complex Mental Health & Intellectual Developmental Disabilities – Mental Health Resources in NC
Child Development
Harvard University Center of the Developing Child – Resources and information about child development as it relates to COVID-19
Misc Needs
Three Men and A Truck – Moving of large items in-house or true moving
Mary Sonnenberg, Partnership for Children President
DCDEE Communications
Other Communications


June 5, 2020
COVID-19 Testing and Contact Tracing
Check Your Symptoms and Find Your Testing Place Online
COVID-19 Testing
The North Carolina Department of Health and Human Services (NCDHHS) has expanded COVID-19 testing and contact tracing across the state to help keep everyone's families and neighbors safe. You can now access online tools to determine if you should consider being tested and to find a testing site near you.
Visit Check My Symptoms (www.ncdhhs.gov/symptoms) and enter your symptoms to determine if you should consider getting tested for COVID-19. If a test is recommended, you will receive a link to a list of nearby testing sites via email or text.
Visit Find My Testing Place (www.ncdhhs.gov/TestingPlace) and enter your county or ZIP code to access a list of nearby testing site locations online.
NCDHHS recommends COVID-19 testing for anyone with symptoms or anyone who thinks they have been exposed to COVID-19, whether or not they have symptoms. More information on who should be tested is available online.
COVID-19 Contact Tracing
One way to know you may have been exposed to another person who has COVID-19 is if you receive a call from a contact tracer. Contact tracers, including local health department staff, reach out to people who may have recently come into close contact with someone who tests positive for COVID-19.
It is important to answer the call when a contact tracer reaches out. He or she will connect you with the information and support you need to protect yourself and your loved ones. Here's what will happen if you are contacted:
You will get an initial text from the number 45394 or email from

[email protected]

.
Someone from your local health department or NC OUTREACH (844-628-7223) will follow up with phone calls.
You may be advised by your contact tracer to use the COVID-19 Community Team Outreach (CCTO) Tool, a password-protected online resource to track your symptoms.
Remember, a contact tracer will never ask for your Social Security Number, bank or credit card numbers, or any other financial information at any time. Any information shared during your call with a contact tracer is a private health record and is strictly confidential.
Testing and tracing are core public health measures and key components of North Carolina's strategy to responsibly ease restrictions, while continuing to slow the spread of the virus. If you believe you or or a loved one may need a COVID-19 test,
check your symptoms
and
find a testing place
today.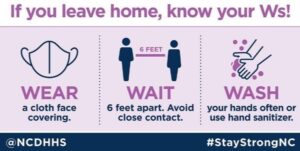 Dear Partners:
As we head into our second week of April, we continue working around the clock on our response to COVID-19. We remain focused on slowing the spread of the virus so fewer people get sick at the same time and helping North Carolinians weather these very challenging times. Below are some of the highlights of recent actions and resources. As always, please continue to check our website for the latest news, www.ncdhhs.gov/coronavirus.
Families are Receiving Enhanced Benefits to Ensure Food Access
Child Care Access & Financial Assistance Available for Essential Workers
Child Care Payment Policies Released
Child Care Webinars Available
COVID-19 Dashboard Updated
New Video on Reducing Anxiety and Stress Available
Executive Order Prohibits Utility Disconnections
Executive Order Gets Equipment to Healthcare Workers, Schools, Local Governments
Daily (M-F) Press Briefings Continue
Families are Receiving Enhanced Benefits to Ensure Food Access
To help families access food during the COVID-19 pandemic, we are temporarily increasing benefits for March 2020 and April 2020 for current Food and Nutrition Services (FNS) recipients in North Carolina. All families that receive FNS will receive the maximum amount allowed for March 2020 and April 2020 for their household size.
Child Care Access & Financial Assistance Available for Essential Workers
We have two resources for essential workers (as defined in Executive Order 121) who are in need of emergency child care.
We partnered with the NC Child Care Resource & Referral network to launch a hotline, 1-888-600-1685, to connect families with child care programs that have agreed to meet updated health, safety and operational guidelines.
For those essential workers who need it, financial assistance for emergency child care is available.
Child Care Payment Policies Released
On Friday, April 3, DCDEE released COVID-19 Child Care Payment Policies, which provides detailed information about policy changes that apply to licensed or regulated child care facilities related to:
Subsidized Child Care Program payments
NC Pre-K program payments
Emergency Child Care Subsidy program payments
Bonus payments to child care teachers and staff providing services during the COVID-19 outbreak.
The policy also clarifies that DCDEE will make Subsidized Child Care Program payments to all subsidized child care providers for March, April, and May service months, regardless of whether the facility is open or closed.
Child Care Webinars Available
Last week, DCDEE held several webinars for child care providers which are now posted on the DCDEE website:
On March 30 & 31, DCDEE held calls with child care providers to provide an overview of guidance provided to date, the COVID-19 Emergency Child Care Provider Application, and financial assistance available for providers and parents.
On April 2 & 3, DCDEE held a webinar to review updated health, screening, and safety guidelines for child care providers that remain open after April 1 or choose to reopen in the future.
COVID-19 Dashboard Updated
Last week, we added new data to the COVID-19 Dashboard. In addition to information on number of laboratory-confirmed cases, hospitalizations and deaths, there is now more demographic information such as age, gender and race and ethnicity and data about hospital beds and supplies. There is also data about outbreaks in congregate settings including nursing homes, residential care facilities, and correctional facilities.
New Video on Reducing Anxiety and Stress
Dr. Carrie Brown, NC DHHS Chief Medical Officer of Behavioral Health and IDD, has a new video on ways to manage stress and anxiety during COVID-19 social distancing, quarantine and isolation.
Executive Order Prohibits Utility Disconnections
Governor Cooper issued an Executive Order directing utilities to give residential customers at least six months to pay outstanding bills and prohibits them from collecting fees, penalties or interest for late payment. The Order applies to electric, gas, water and wastewater services for the next 60 days.
Executive Order Gets Equipment to Healthcare Workers, Schools, Local Governments
Governor Cooper signed Executive Order No. 122 to help schools and local governments access state surplus property to help bridge gaps during the response to COVID-19. The Order also provides transfer or donation of personal protective equipment that state government may have and not need.
Daily (M-F) Press Briefings Continue
Public health, emergency management and other state leaders host regular press briefings throughout the week, usually Monday through Friday. These briefings are livestreamed and can be viewed at https://www.ncdps.gov/storm-update.
Best,
Madhu Vulimiri
Madhu Vulimiri, MPP
Senior Strategy Advisor
Office of the Secretary
NC Department of Health and Human Services
Dear Early Childhood Partners:
First, thank you so much for the important work you are doing during this time of crisis. We understand that during this rapidly changing time, many partners and advocates have questions about how the Governor's executive order on school closures will impact families with young children, and how the State is responding to ensure that children and families are supported while schools are closed.
We want provide you with a brief update about some of the work underway to ensure families have access to child care, access to nutritious food, and access to remote learning:
On Saturday, March 14th the Governor appointed an Education and Nutrition Working Group to develop a plan to ensure that children and families are supported while schools are closed. The working group is focused on issues such as (but not limited to) nutrition, health, child care access for critical health care and other front-line workers and learning support for children at home. The Working Group is co-chaired by Susan Gale Perry, Chief Deputy Secretary of NC DHHS and David Stegall, Ed.D, Deputy State Superintendent of Innovation at DPI, and will have representatives from DPI, NC DHHS, the State Board of Education, as well as other education, nutrition and childcare associations.
Access to Safe, Affordable Child Care
DHHS sent a letter to child care providers (attached) about the decision to stay open or close down, and guidance for those facilities that do stay open.
DCDEE released guidance on public health information for child care providers about when someone is sick, screening criteria, exclusion criteria, cleaning, helping the community, limiting exposure, and preparedness.
DCDEE released guidanceto child care providers on subsidy and pre-K payments, stating that for the month of March, 1) child care centers will receive full subsidy payment for each child enrolled in their facility according to each child's plan of care, and 2) NC Pre-K programs will be paid in full for March, regardless of child attendance or closure.
DHHS and DPI released joint guidancefor the operation of school-based emergency child care during the COVID-19 school closure.
DCDEE released guidanceon the need to maintain compliance with all child care rules to the extent possible, while also providing flexibilities to child care providers around staff/child ratios, group size, training requirements, records, activity areas, and nutritional standards.
On March 19th, NC set up a toll-free number for families to call and find out which child care providers are open. We are prioritizing communicating the 1-800 line to healthcare providers and other essential workers.
Access to Nutritious Food
USDA has approved multiple waivers for NC to provide food to children through the Summer Food Programs in non-congregate settings, which enables meal delivery. As of March 19, 2020, all 115 public school districts, 3 federal schools, 33 charter schools, and 35 community partners (e.g., food banks, Feeding America, large faith-based entities) have approved plans to serve meals to children. School districts have flexibility on how to distribute food and have implemented a variety of innovative methods for meal pick-up/delivery (e.g., yellow school bus delivery, grab-and-go meals, drive-by pickup). Most sites began serving meals on Monday, March 16th (averaging 250,000 meals per day).
DHHS and DPI are seeking multiple additional waivers and flexibilities to maximize federal programs (e.g., WIC, CACFP, SNAP, and school nutrition programs) to increase access to food for families and children.
DHHS and DPI are providing regular guidance and technical assistance to schools and community food sponsors.
DPI is continuing to coordinate Nutrition Hubs at schools, connecting schools and community organizations with school meals with food packages for households.
DHHS and DPI are soliciting feedback from schools, child care providers, and others to identify possible underserved communities in order to better deploy food assistance.
CDSAGuidance
As of March 18, 2020, the North Carolina Infant-Toddler Program (ITP) is suspending face-to-face services until March 30, 2020, unless extended beyond that date.  The program will be providing alternate methods to ensure the best support for our families during this difficult time and ensure service continuity.
Access to Remote Learning 
NC DPI has launched a COVID-19 Response & Resources webpage with a robust set of resources for educators and families.
NC DPI has published resources for parents to support learning for children birth to grade 2.
NC DPI is working with internet service providers who are offering free and affordable options for high-speed internet while schools are closed. NC DPI has launched an interactive map for families to find free and affordable internet service offerings across the state.
NC DPI is partnering with The Friday Institute for Educational Innovation to provide instructional support.
This work is evolving quickly and we are committed to keeping you updated and to ensuring children and families are supported. We will continue to pursue every opportunity to support child care programs and schools with good health and safety guidance, financial stability, and flexibilities during this time. DHHS has developed a COVID-19 website with a robust set of resources related to the coronavirus. We will be posting updates on our DHHS website. If you have any questions, please reach out to Hayley Young at [email protected] or (803) 413-4694.
Best,
Susan Gale Perry
Susan Gale Perry
Chief Deputy Secretary
NC Department of Health and Human Services